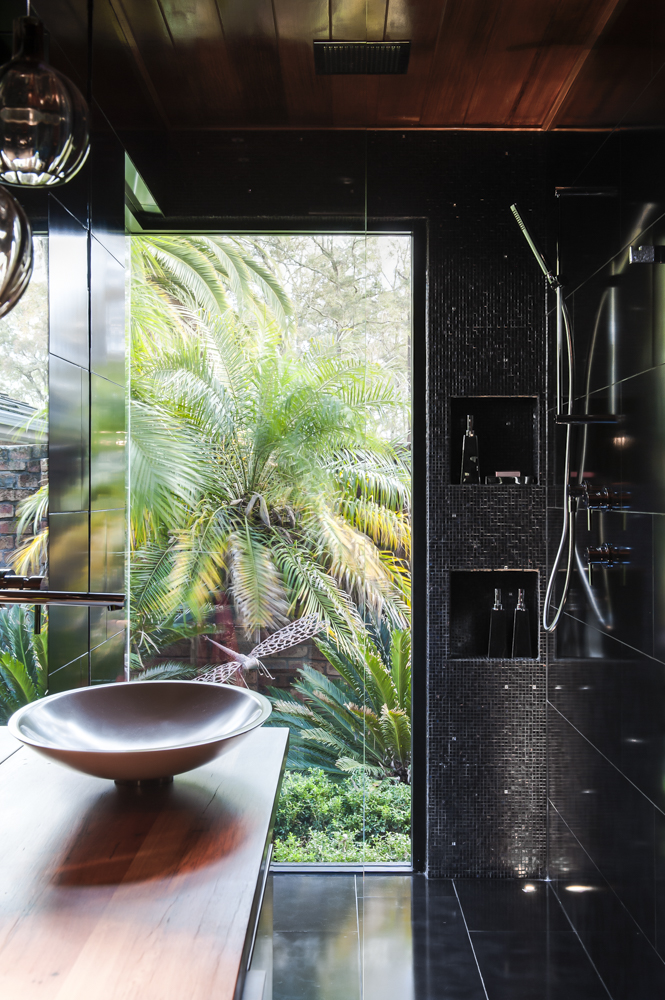 Black bathrooms may be all the rage – their dramatic appeal is hard to resist – but before you reach for the paintbrush or order those black tiles, pause a moment. Black bathrooms are easy to get wrong. Without enough light or interest to bring them to life, black bathrooms can be just plain bland. Instead of giving you a lift every time you enter the room, drab black bathrooms tend to leave you feeling a little glum and uninspired. Take your cue from these beautiful bathrooms, though, and yours is sure to be a winner.
PEP IT UP WITH PATTERN
Don't make the mistake of going all black without adding interest. Pattern is an instant fix for a boring black bathroom, especially if the design is elegant, industrial or just plain chic. This tiled feature wall adds a designer touch to this stylish bathroom, without having to deviate from the black and white scheme.
Shimmery mosaic tiles achieve the same outcome without going too glossy. Pendant lighting that would look at home in a dining room just add to the sophisticated vibe.
BRING ABOUT SOME BALANCE
Black on its own is dramatic, but a lashing or two of white can make it even better. Painting the walls in Dulux's 'Domino' transforms an otherwise white bathroom into chic style territory, while black and white floor tiles bring the whole look together.
ENSURE THERE'S ENOUGH NATURAL LIGHT
Even the most beautiful of black bathrooms will soon lose their lustre if too little light comes into the room. Artificial light will never achieve what natural light can – that is, a mood-lifting effect that amplifies the space.