HIA Awards 2015: Bathroom finalists are as beautiful as they are functional
Chelsea Clark, Home Magazine, October 13, 2015
BATHROOMS have come a long way from the days when they were just somewhere to brush your teeth and have a wash, as the finalists in this year's HIA-CSR NSW Housing and Kitchen & Bathroom Awards showcase.
When we now expect so much from our homes, the bathroom needs to perform a number of functions from a high traffic area on weekday mornings to an at-home day spa in the evenings and on weekends.
On the one hand, everyone needs direct and easy access to handbasins and showers while on the other, there needs to be a sense of sanctuary and luxury reflected in fittings and finishes.
The evolving role of the bathroom is on show in this year's range of finalists, with careful consideration given to the choice of fittings and fixtures, as well as optimum functional design.
Stone continues to feature prominently, with marble slabs and marble tiles in shades of white and grey proving popular. Storage is streamlined and almost invisible, with floating joinery, handle-free drawers and shelving concealed behind mirrors.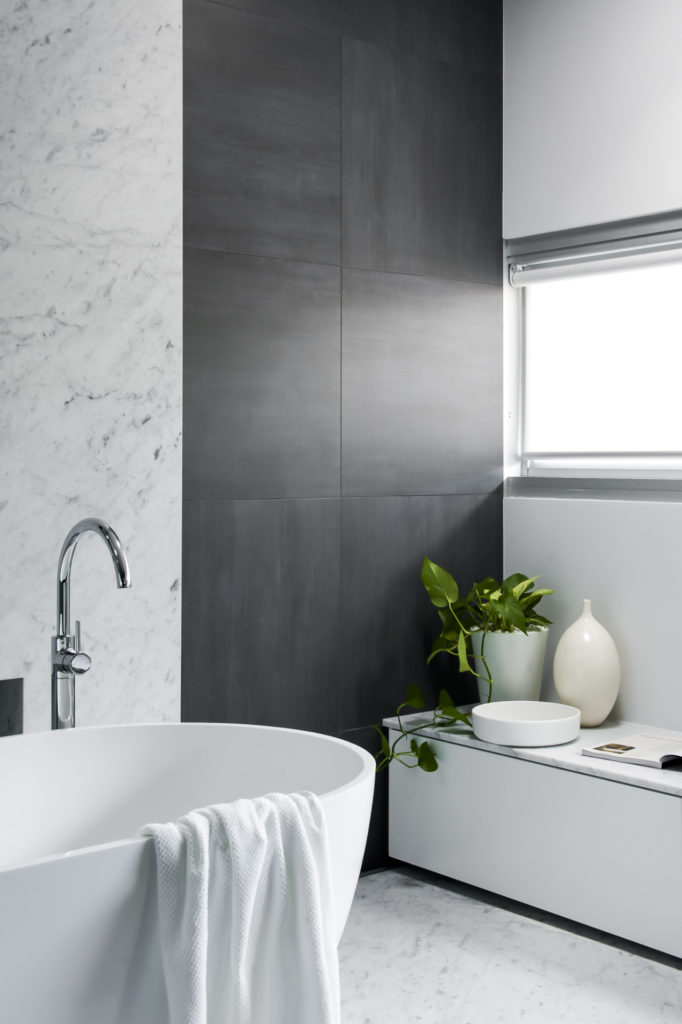 There's an emphasis on simple lines in tapware as well, with wall-mounted fittings making cleaning an easier task. Double basins have become de rigeur and vary between integrated and counter-mounted styles while the freestanding bath adds the sense of luxury and escape from the everyday that many homeowners are looking for.
As with every good bathroom, there's a clever use of natural light without compromising on privacy with reflective surfaces bouncing light around the room.the deceptively simple bathroom packs in features from heated towel rails to a freestanding bath tub.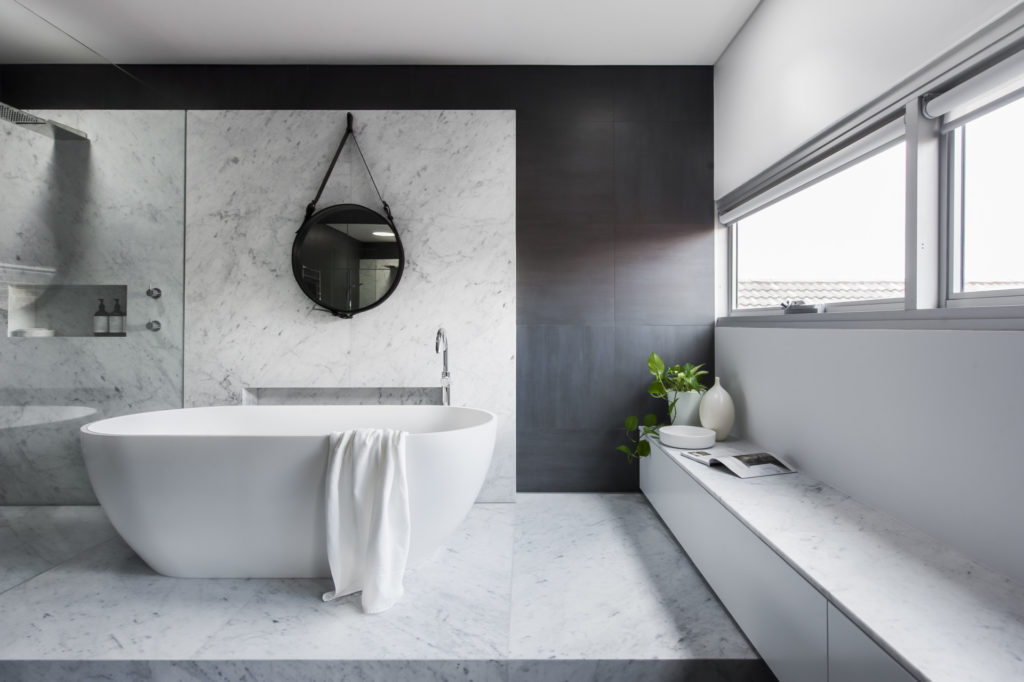 CATEGORY: BATHROOM DESIGN AND LARGE BATHROOM
Builder: Liebke Projects  |  Design: Minosa Design
The Minosa designed bathroom was created in a disused space off a bedroom.
Almost unbelievably, this bathroom was created in a disused space off the main bedroom of a traditional four-bedroom home in the beachside suburb of Clovelly.
"Very rarely are we presented with a space that is free from anything, a space that is square with good light, a clean slate," says Darren Genner from Minosa. "This space was a dream to work with, but it still had its challenges."
With a traditional restored frontage and architecturally designed minimalist modern extension, the home's style dictated the style of the bathroom — a sharp, clean contemporary design with more than a hint of classic style.
"The approach to the room was to zone the functions, the toilet is in a separate area tucked away from the bathing space so the room was set out into three zones: bathing, vanity and hamper storage-come-seating area," says Darren.
The washbasin was custom made from a single piece of solid surface material with two eco friendly bowls slumped out of the top surface.
Above the washbasin are 'touch to open' bi-fold lift-up doors that cater for personal effects storage while the drawers below house cleaning products and more towels.